CD album
Released : 2022.12
Music:Mayuka Sakai, Chihiro Yorisaki, jape
CD album
Released : 2022.09
Music:Mayuka Sakai, Chihiro Yorisaki, Akihiko Ohtsubo, Jean Defrance
SCORE
Music : Evan Call
Arrangement: Mayuka Sakai
CD album
Released : 2022.04
Music:Yoshinori Akai, Mayuka Sakai, Hiraoka Kotaro, Kazuki Yamamoto
TV / Radio / NHK Broadcasting
From April 2022
Broadcast on Monday (UTC)
Theme Music : Mayuka Sakai
CD album
Released: March 30, 2022
Music by: Evan Call
Arrangement: Mayuka Sakai
Score / TV / NHK Broadcasting
Released: January 28, 2022
Music by: Evan Call
Piano arrangement: Mayuka Sakai
Cover album
Artist: Shizuka Kudo
Released: March 10, 2021
Tracks n° 4 - 6 - 13
Arrangement / piano : Mayuka Sakai
Soundtrack
"Wotakoi: Love Is Hard for Otaku"
Soundtrack Collection
Music by: Eishi Segawa, Moe Hyuga,
Mayuka Sakai
February 7, 2020
Original Soundtrack
"Yell" Television Drama
Music by: Eishi Segawa
May 27, 2020
Tracks n° 11, 26 Arrangement: Mayuka Sakai

Tokyo 2020 Paralympic TV / NHK
Special Anime series Broadcast "Precious Youth"
April 2021
Artist: Yokoyama Daisuke
Lyrics, Composition: Tsunku
Choral Composition: Mayuka Sakai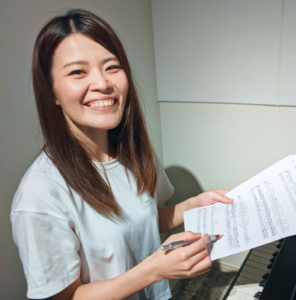 Proudly born in Osaka, graduated at Tokyo University of the Arts.
Currently working as Composer, arranger and pianist in Tokyo, Nagoya, Osaka.
Hope to collaborate with people all around the world.
Feel free to contact me with the form below, for requests of assistance, music composing, production, performances, etc.
I can also offer special lessons on composition, Solfège and music theory.
You can follow me on the following social accounts